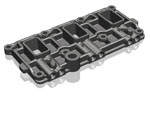 High Pressure Aluminum Molding
We create die casting designs for high volume part production. Using this technique results in a nice finished surface of the molded parts and allows us tu respect tighter geometric tolerance. For complex objects, we can add mechanical movement to insure feasability of every components.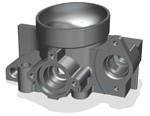 Smaller Production Conception
Keeping the objective to manufacture aluminum parts, we can design different types of tools. For prototypes or low volume sample production, we can create a matrix for sand molding. If the surface finish or tolerance are priorities, we design molds by flow, thus meeting your requests.